Donna Simpson is no doubt a very very big woman. She currently holds the Guinness world record for being the heaviest woman to give birth, and on a quest to become the heaviest (or fattest) woman in the world.
Donna Simpson is sitting in the kitchen perhaps washing or drying dishes.
Donna Simpson pictured here with two girl friends.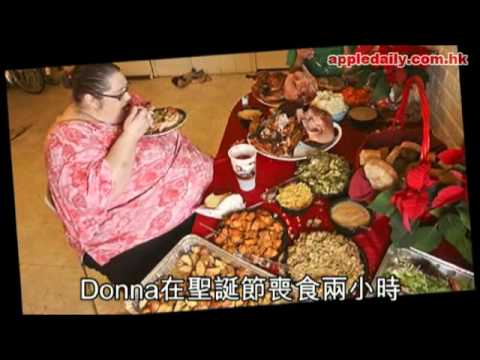 Enjoy a video of Donna Simpson just being herself, eating and spending quality time with her husband and daughter. Her quest to reach 1,000 pounds and become the heaviest/fattest woman in the world will soon be reached.
Donna Simpson visits Howard Stern and enjoys the interview. Learn about some big girl secrets such as Donna shopping at www.AmpleStuff.com for her plus size necessities. She also gives a little preview of her members only website with over a thousand members. Part 1 of 5.
Donna Simpson interviewed by Howard Stern. They get into details of what Donna Simpson eats for breakfast, lunch and dinner. Also, they discuss her dieting past and her difficulties at reaching her goals. Part 2 of 5.
Howard Stern talks to Donna Simpson's husband Phillippe Gouamba. They discuss his upbringing, then dive into the psychology behind loving Donna Simpson and her fat. Phillippe's fat fetish is as known as feeders. Part 3 of 5.
Donna Simpson responds to Howard Stern's callers. Some callers are worried about her health, and some are typical Howard Stern callers. Part 4 of 5.
Donna Simpson's interview concludes. Howard thanks Donna and Phillipe for being on the show. Part 5 of 5.
We wish Donna Simpson would stop what she's doing to herself for the enjoyment of others.